Our Garage Insurance program is specifically designed to meet the needs of today's car, boat, off-road vehicle and farm implement dealers and repair shops.
Your customers trust you for quick and quality service - when it's time for you to make important insurance decisions, shouldn't you expect the same from your insurance agent?
Your local independent agent will work with you to discuss your needs and find the coverages that are right for you. With various discounts available, you can have the protection you deserve for a price you can afford. Don't trust just anyone to protect your business – find your local independent agent representing Auto-Owners today!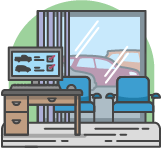 Dealer's Blanket Reporting Form
Receive unlimited coverage, if you report your dealership inventory each month. This information can be submitted online using our Customer Center.
More Than Just Cars
We offer garage coverage for dealerships and repair shops of motorcycles, boats, off-road vehicles, farm implements and RVs.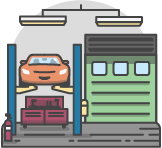 Save With Multi-Policy Discounts
Save money when you choose Auto-Owners for your business, personal and life insurance!
Common Coverages
Garage Liability
Provides coverage for incidents resulting from your business operations, such as customer slip and falls, damage to others' property, use of vehicles in your garage business and more.
Inland Marine
Offers a variety of coverages that protect your property while away from your primary location including tools, employee tools, laptops, and machinery and equipment.
Dealer's Blanket
Covers physical damage to your vehicles, watercraft and equipment.
Garagekeepers
Covers physical damage to customers' vehicles in your possession for repair.
Workers Compensation
Covers work-related injuries to your employees.
Commercial Umbrella
Covers large liability losses that exceed the limits of the underlying garage liability policy.
Commercial Property
Provides protection for your buildings, business personal property and property of others.
Tools & Equipment
You depend on them to get the job done, make sure your tools and equipment are protected.
Additional Coverages
Mechanics E&O
Covers damage caused by faulty parts or work done by you or your employees.
Garagekeepers Actual Loss Sustained
Provides unlimited coverage for customers' vehicles, if they are damaged while in your possession for repair.
False Pretense
Protects your dealership from certain types of fraud or theft. For example, theft during a test drive or acquiring a vehicle without legal title.
Drive Other Cars Coverage
Provides coverage to an auto you do not own, similar to what is provided under a Personal Auto policy. This is important if you are insuring your business and your personal auto liability on the same policy.
Protection and Indemnity for Boat Repair
Provides liability coverage while operating a watercraft.
Ways to Save
Multi-Policy Discount
Receive premium savings when you have other qualifying policies with Auto-Owners.
Life Multi-Policy Discount
Receive premium savings when you have a qualifying life insurance policy with Auto-Owners.
Paid-in-Full Discount
Save more if you pay your annual policy premium in full and on time. Discount does not apply for escrow direct bill accounts.
Group Discount
This discount may apply when your business is affiliated with certain organizations, such as chambers of commerce, credit unions and trade associations.
Deductibles
Assuming some of the risk yourself by choosing a higher deductible may reduce your policy premium.
Favorable Loss History
Receive a lower premium for favorable loss history.
Dispersion Credit
If you own multiple buildings at different locations and insure them on the same insurance policy, you may be eligible for additional savings.
How do I get a quote?
We offer our insurance products through independent agents because of the many advantages they offer you. Use our Agency Locator to find an independent insurance agent near you to get a quote.
Contact an Agent
This material is intended as a general guide or primer only and analysis of coverage is in general terms for the sake of simplicity and understanding. Any of the content provided on this webpage is superseded in all respects by the Insuring Agreements, Endorsements, Exclusions, Terms and Conditions of the Policy. The material on this webpage is not an exhaustive list of the coverages available. Some of the coverage mentioned in this material may not be applicable in all states or may have to be modified to conform to applicable state law. Some coverages may have been eliminated or modified since the posting of this material.