Is there anything better than saving money by doing what you're already doing?
If you drive your car 10,000 miles or less per year, you may qualify for our Low Mileage Discount. This discount can save you money on your premium if you have a private passenger vehicle on your auto policy that you don't drive much - 10,000 miles or less each year to be exact.
When uploading a photo of your vehicle's current odometer, please make sure that your camera is focused on the odometer and that the mileage is clear and readable. Taking a photo of another photo will not be accepted.
* This discount is not available for classic or antique automobiles, motor homes, or vehicles rated as business use or farm use.
1. Home Page
When a photo is required for a vehicle, a banner message will appear at the top of the Customer Center Home Page, advising that a photo is due. To submit a photo, select the "Take Photo" link from the banner message or the "Low Mileage Photo" link next to the corresponding auto policy.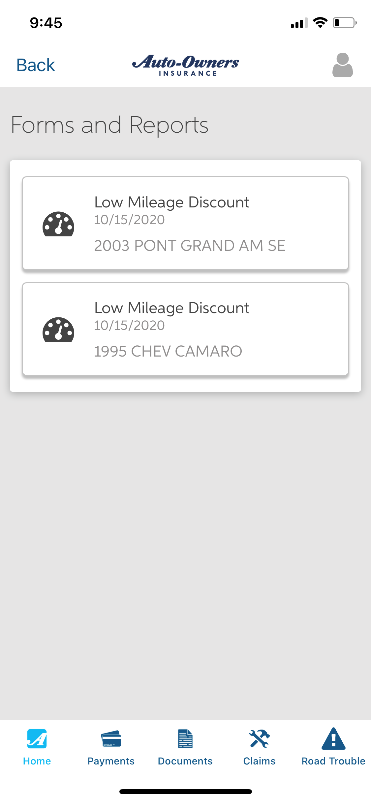 2. Forms and Reports
Another option to upload a photo submission is to navigate to the Forms and Reports page through the Documents option at the top of the page. The vehicles that are eligible for the Low Mileage Discount will be displayed, and a photo can be submitted for each vehicle.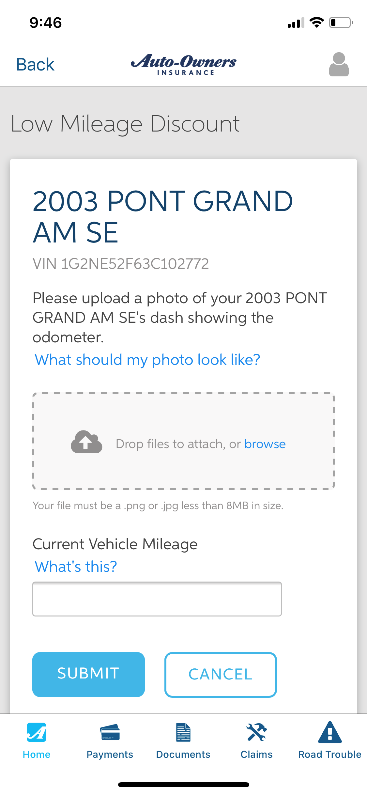 3. Upload an Image
An image of the vehicle's odometer can be submitted by choosing "browse" and uploading an image that is already saved.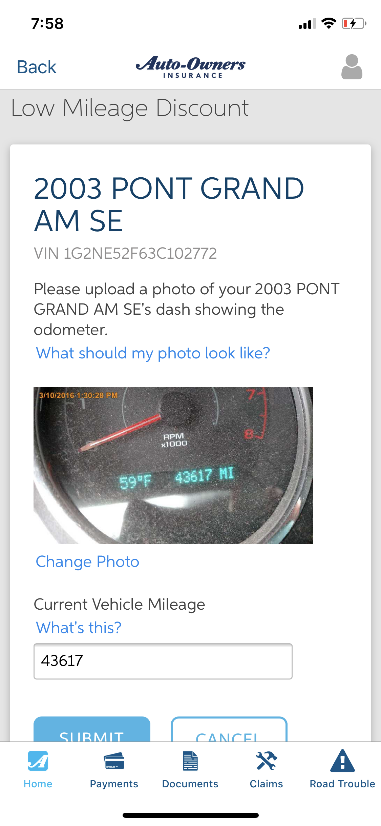 4. Enter Vehicle Mileage
After an image is uploaded, the vehicle's mileage must be entered below the photo. Once this is complete, click the "SUBMIT" button.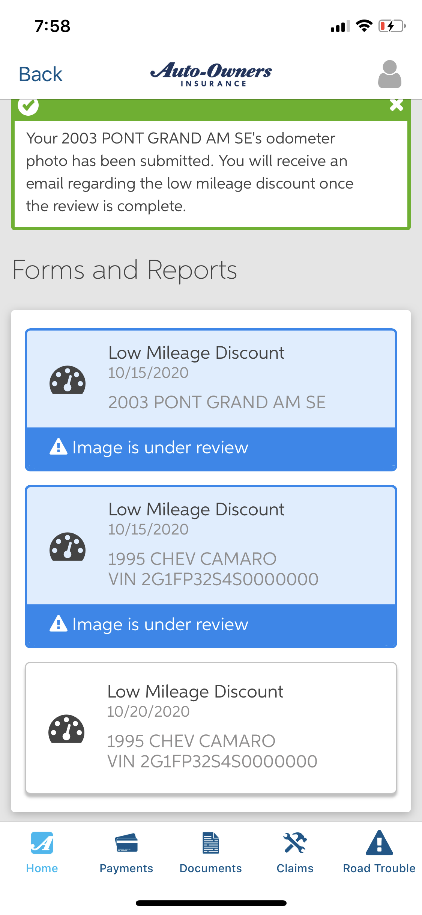 5. Final Submission
After a photo has been successfully submitted, a notification will appear on the Forms and Reports page, stating that an email will be sent out once the review is complete. When the photo that was under review is approved or rejected, an email will be sent. If a photo is rejected, this status will also appear in Customer Center with instructions. Please note, if the photo is rejected, this message will disappear when the timeframe expires or a valid photo is submitted.